| | |
| --- | --- |
| Any | 1994 |
| Gènere | Concert de cant tel.lúric |
| Obra | Monk of chaos worshipping the bull |
| Presentació | Institute of Contemporary Arts. London |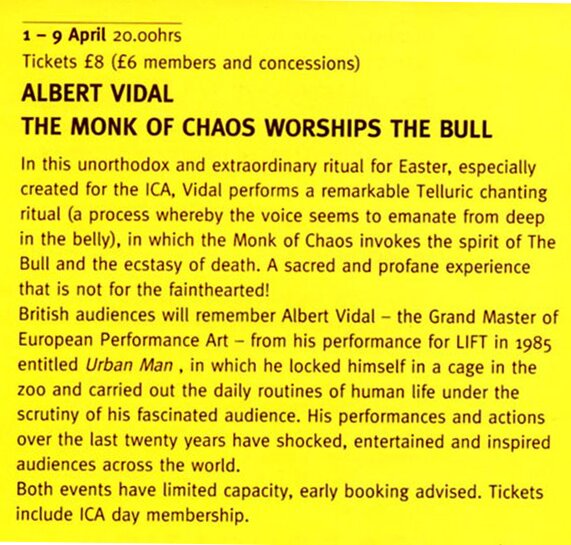 L'actuació consisteix en dues parts.
Primera part
El públic es dirigeix ​​un a un a la Cripta i es revela al Monjo del Caos amb el timbre d'una campana. A través dels sons de les campanes, les ànimes dels espectadors toquen el Monjo i inspiren l'ambient del concert.
Segona part
Concert Tellúric en què el Monjo del Caos cantarà la vida, la lluita i la mort del Toro..
Devil's love song
1. The Bull
Fused space
The Woshipper
The grand dame
Premonition
Quietness
2. Esperpento
The wooden virgin
Shameless innocence
Contradictions game
Surrender to death
3. Dead child
Raven's promenade
The saint
The sword
Path to death
4. Last fight
Death rattle of memory
Bull's pieta
FITXA  ARTÍSTICA
| | |
| --- | --- |
| Creació i producció | Albert Vidal |
| Monjo de caos | Albert Vidal |
| Performers | Marta Casas, Maria de Marias |
| Vestuari | Nina Pavlovsky, Pep Duran |
| Vestuaris de pèl i PVC | Esmeralda Montesinos |
| Disseny de llum | Albert Vidal |
| Maquillatge | Alicia Bravo |
| Ajudant de maquilladora | Lucy Ellis |
| Ajudant artístic | Joan Puigdollers |
| So | Rachel Shipp |
| Il.luminació | Justin O'Shaughnessy |